Blown-In Insulation
Did you know that by installing additional insulation into your home's attic and walls you can shed up to 30% off of your heating and cooling bills?
Blown-in insulation, when done properly, will significantly lower your heating bill and increase the comfort of your home or office. You pay a lot to heat your spaces – don't let that air escape through inadequately insulated walls. We offer blown-in insulation in Glens Falls, Queensbury, and Upstate NY to ensure your heat stays inside where it belongs.
Our professional technicians stay up-to-date with the latest certifications and are equipped with the latest products and technologies, such as the Rotostorm insulation blower. They will check your home's insulation levels and compare them to the Department of Energy guidelines for energy efficiency. You can also save more money with tax credits for any purchased insulation materials.
Insulation is rated in terms of thermal resistance. This is called R-value. The R-value indicates the insulating material's resistance to heat flow. The higher the R-value, the greater the insulating power. Heat rises, and an inadequately insulated attic allows your home's heat to escape. We use several types of insulation products to upgrade your existing home insulation.
Your home or business may need more insulation if: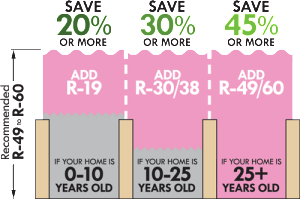 • The temperature remains too warm or cold
• Your A/C or heating system seems to run constantly
• Your utility bills are high
• You want to add value to your home
• You want better energy efficiency
• Noise travels easily through your walls
• Icicles build up along the roof line
We are proud to serve customers all over the North Country, Adirondacks, and Capital Region including Warren, Washington, Saratoga, Herkimer and Albany counties, including Saratoga, Glens Falls, Queensbury, and Lake George
Contact us today to schedule a free estimate: (518) 955-1051 or support@simonshvac.com.
Home insulation experts in Upstate, NY
Click here to download a brochure and coupon for $100 off!